Produced in copper pot stills following the best traditions of the Minas Gerais region and stored in stainless steel vats, Tiê Prata preserves the sweet aromas and flavors of the sugarcane, with a pleasant spiciness at the end. Excellent when drunk neat and perfect for composing a range of cocktails. It has been considered one of the three best white cachaças in Brazil by the Cúpula da Cachaça Ranking 2018.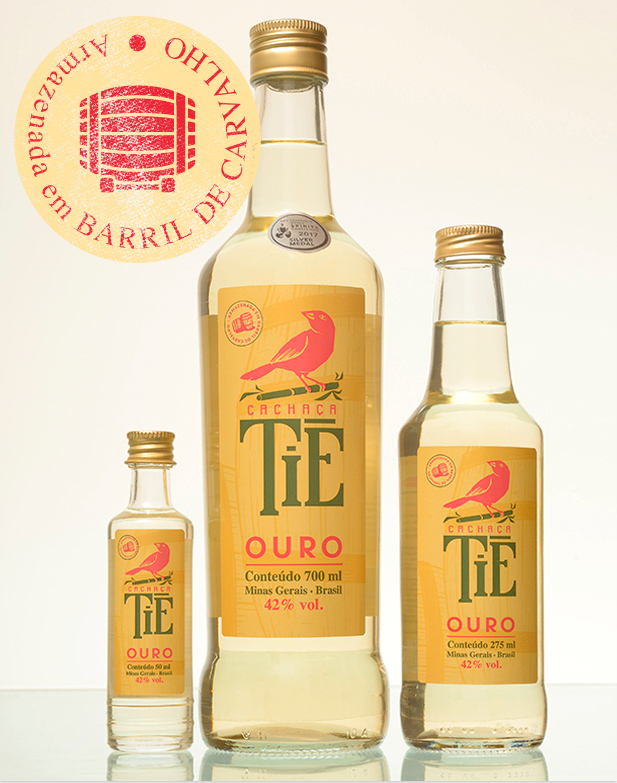 Tiê Ouro is aged for up to three years in oak barrels, reaching the perfect point of maturation. The cachaça has a soft golden color, caramel-scented aromas, soft flavors and velvety texture. It has won several international awards, including the Gold Medal at the New York International Spirits Competition.
When made with cinnamon sticks extracted from samples planted in Aiuruoca (MG), Tiê Ouro turns into a drink of unique and surprising aromas and flavors, in which the freshness of sugarcane, a touch of piquancy and balanced touches of spices are perfectly merged.
The newest member of the Tiê family is an extremely pleasant and easy-to-drink distillate. Made to warm heart.